YOU DON'T KNOW JAY
The Broncos QB isn't the only Jay Cutler making a name for himself.
by Elisabeth Galina
Article
No, this is not a "before and after" photo.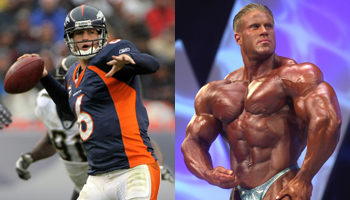 In spite of a defense that surrenders close to 400 yards per game, QB Jay Cutler seems to have willed the Broncos to a 4-2 record going into tonight's matchup in Foxboro (8:30 p.m., ESPN). But there's another Jay Cutler out there and he's huge. This Jay Cutler is a two-time Mr. Olympia, who won his first title in 2006, the same year that the quarterback was drafted in the first round by the Broncos. Confused? Us, too. So we got one of the Jays on the phone. You'll have to figure out which one.
Mag.com: Do you think you'll break Dan Marino's record this season?
Jay Cutler: Definitely. I'm hoping it leads to an endorsement deal with Isotoner gloves. NutriSystem is out, though, because of my contract with MuscleTech.
How's your relationship with Mike Shanahan?
Unfortunately, it's not great. He never calls. He never writes. It's like he doesn't even know who I am.
What do you really think about Brandon's legal woes?
I try never to comment on somebody else's woes.
Think you'll make it to Tampa?
Maybe. I am usually booked with guest posings every weekend, and Tampa isn't on the list right now. But you never know, money talks. I could be persuaded.
Do you miss the Commodores?
Dearly. It seems just like yesterday when we were working out.
Think you can tell the difference between the two Jays? Take this quiz and find out:
1. In college, this Jay Cutler received a degree in criminal justice.
2. This Jay Cutler grew up in the fancifully-named Santa Claus, Ind.
3. As a character on South Park this Jay Cutler was animated alongside a group of foul-mouthed fourth graders.
4. Three Arnold Classic titles, won in consecutive years, sit in this Jay Cutler's trophy case.
5. Oprah enlisted the help of this Jay Cutler for an episode of Oprah's Big Give.
6. As a senior in high school, this Jay Cutler quarterbacked his varsity team to a perfect 15-0 record.
7. This Jay Cutler's middle name is Issac.
8. In 2007, this Jay Cutler founded the Jay Cutler Foundation to help at risk youth.
9. This Jay Cutler once did 23 reps of a 225 bench press in front of slack-jawed scouts.
10. From Jay to Z is the title of this Jay Cutler's DVD release.
Answers: 1. Mr. Olympia 2. Broncos QB 3. Broncos QB 4. Mr. Olympia 5. Broncos QB 6. Broncos QB 7. Mr. Olympia 8. Broncos QB 9. Broncos QB (2006 NFL Combine) 10. Mr. Olympia